One of the most valuable experiences that I have in my life is being a Fulbright scholar. Before winning this scholarship, I was an employee at BPS-Statistics Indonesia. I started working there right after I received my B.S. in Computational Statistics from Institute of Statistics in Jakarta, Indonesia. I worked for 3 years when suddenly I felt like I was stuck in a comfort zone. Science and knowledge, especially those related to technology, are growing very rapidly. There is a lo@WebSciDLt of new information out there, which I could not get if I did not get out of my office building. I need to upgrade my education for a better career in the future. I started applying for many scholarships to study abroad, got many rejections before finally I was invited to an interview for Fulbright. After a very long selection process (it took almost a year since I submitted my application), I was fortunate enough to have a Fulbright scholarship. Now, I am pursuing an M.S. in Computer Science at Old Dominion University in Norfolk, Virginia.
I feel so blessed because Fulbright not only gives me the opportunity to travel abroad and continue my education for free, it also comes with many other benefits. One of them is the opportunity to participate in an enrichment seminar hosted by the U.S. Department of State's Bureau of Educational and Cultural Affairs (ECA) to increase mutual understanding between the people of the U.S. and the people of other countries. There are 11 enrichment seminars conducted between December 2015 - May 2016, which covered various topics: U.S. Politics and Elections, Global Health Innovations, Democratization of Education, and Entrepreneurship and Technological Innovation. I

had

the honor of attending the last seminar, titled
"The 2016 Lab to Market: Entrepreneurship and Technological Innovation Enrichment"
, which

wa

s hosted in Pittsburgh, Pennsylvania from May 24 - 28, 2016. This seminar focused on how to use technological advances to support scientific and business disciplines. It included discussions with the entrepreneurs who successfully brings technological products and service to the marketplace and getting involved in innovation and ideation project.
Day 1: Arrival, Registration, and Opening Dinner
Welcome Announcement
I arrived at The Omni William Penn Hotel at 3.00 pm and directly ushered to the Three Rivers Room to do the registration and got the "welcome package" which contained a t-shirt, name tag, and a guidebook. There are seven U.S. Fulbright scholars who volunteered to assist the seminar attendees in doing the registration. One of them asked me about from which part of Indonesia I came from, then s

he marked

my hometown on the google map to create the distribution map of Fulbright scholars who attend the seminar.
Distribution map of the seminar attendees.
— Cheryl Nachbauer (@nachbaca) May 26, 2016
At 5.30 pm we departed for the opening dinner which was hosted at Senator John Heinz History Center. While having dinner, we listened to the keynote remarks from Thomas Petzinger Jr., the co-founder of LaunchCyte LLC about his experience in creating a startup and lessons that he learned (the triumphs and struggles) related to entrepreneurship.
Keynote remarks from Thomas Petzinger, Jr.
Opening Dinner
Day 2: Panel Discussion, Site Visits, and Small Group Dinner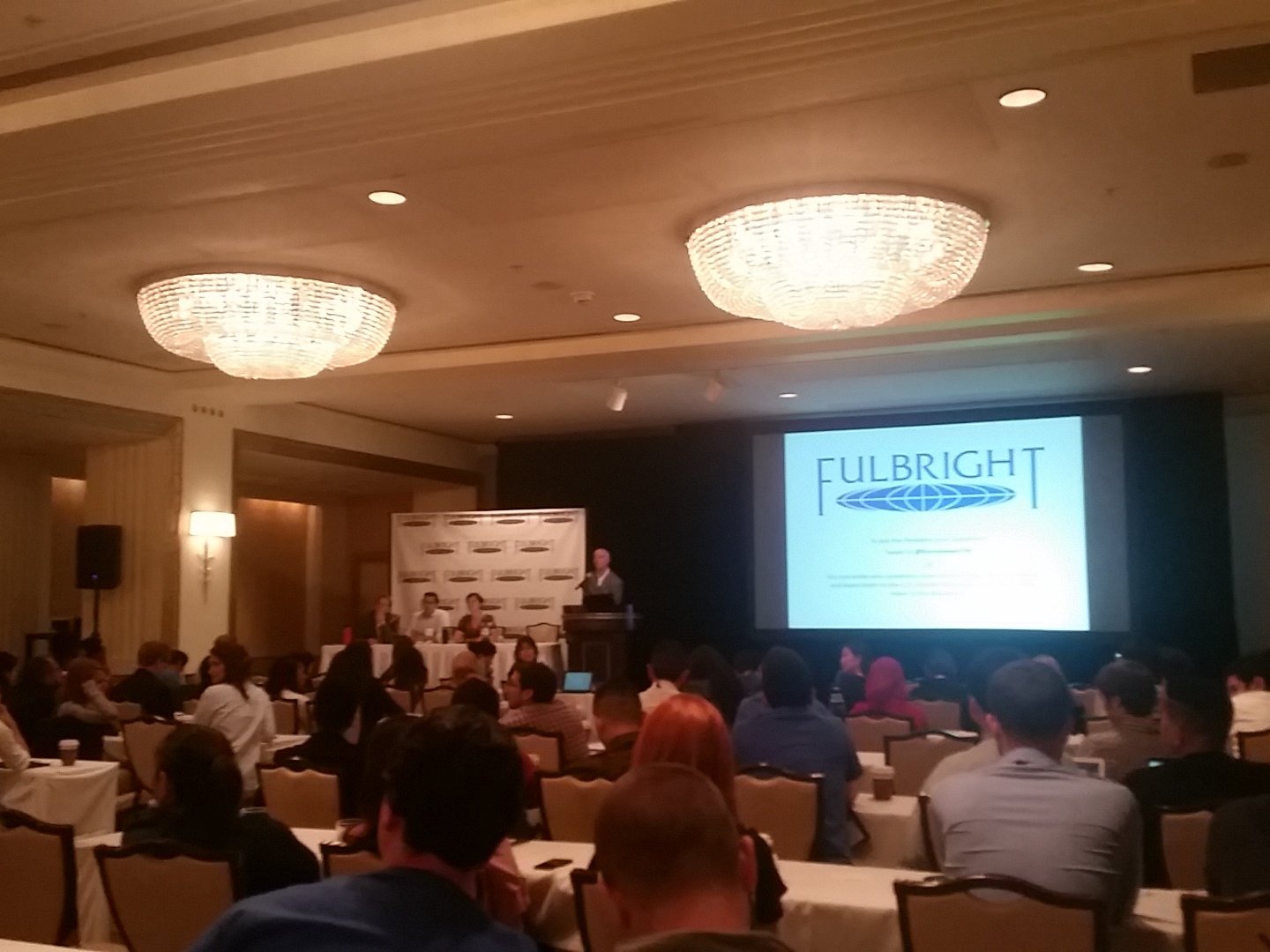 Discussion panel about social innovations
We started the day by participating in a panel discussion about "Social Innovations: Tech Solutions for Global Good." The panelists were
Andrew Butcher
from
GTECH Strategies
,
Corrine Clinch
from
Rorus Inc.
, and
Lee Kimball
from
Thread International
. Acting as the moderator was
Tim Zak
, Director of the
Institute for Social Innovation at Carnegie Mellon University
. The panelists shared their story and experience when transferring their academic knowledge into something that will give a real benefit to people. It is about how technologies can integrate into people's life. Here is a very nice remark that I heard in this session: "
The key to success in an entrepreneur field is the ability to adapt and recover quickly, every time we fail. The real failure only happens when we give up.
" Moreover, Tim Zak also said, "
If you want to change the world, get out of your lab and go meet customers, influencers, and investors.
"
— Nono Martínez Alonso (@nonoesp) May 25, 2016
— Thread (@ThreadIntl) May 25, 2016
After lunch, we departed for Site Visits. There are 3 sites that we could choose to visit: TechShop, Human Engineering Research Laboratories, and CREATE Lab. I joined the group that went to the
TechShop
. We got the opportunity to see real technological innovations and interact with people who spend their daily life dealing with innovations and creations.
— Sophie Morse (@SMMorse15) May 26, 2016
Here, I also would like to share the pictures taken by my colleagues who went to CREATE Lab and Human Engineering Research Laboratories.
— Amber Schaffer (@Amber__Schaffer) May 26, 2016
— Tahar Belkheir (@tbweet) May 25, 2016
In the evening, the Fulbrighters are divided into six groups that will depart for six different restaurants for the group dinner. I chose to go to Alihan's Mediterranean Cuisine, which is located close to the hotel where I stayed. I used this opportunity to mingle with other Fulbright scholars and we exchanged stories and experiences about living and studying in the U.S. We also talked about current issues that are happening in our respective countries. It is always interesting to hear about something that happens in other countries from their citizen's perspectives.
Dinner at Alihan's Mediterranean Cuisine
We had a free evening after dinner. I and my Indonesian fellows used this opportunity to explore Pittsburgh. Initially, we only wanted to hang out at Starbucks or other coffee shops. Unfortunately, in Pittsburgh, everything closes after 8.00 pm, except the bar. Since none of us drink alcohol, we were just wandering in Pittsburgh streets before we met other Fulbright groups who invited us to go with them to Mount Washington. We took the skylift to reach the top of Mount Washington and was honored with a very beautiful view of Pittsburgh in the night.
Pittsburgh views from the top of Mount Washington
Day 3: Panel Discussion, Fulbright Talks, and Cultural Activities
Panel discussion: from concept to commercialization
Again, we started the day by having

a

panel discussion. Today, the topic is about how to bring an academic research to commercial market. We were lucky to hear the first-hand experience from great panelists who have taken their research and inventions and buil

t

a commercial business (startups). They are Eric J. Beckman from CoHera Medical, Kathryn Farraro from BioStratica, and Noah Snyder from Interphrase Materials. We heard a mindblowing story about how an invention like a glue can be used by

a

surgeon to join human tissues and repair knee ligaments. The panelists were asked what is the biggest challenge that they faced so far, and does leave academia and being entrepreneurs still leav

ing

them intellectually challenged? They answered that the biggest challenge that they have is being the entrepreneurs itself. They can still challenge their intellectuality by doing hands-on research on the things that they want without being restricted by

grants.
— Fulbright Programs (@FulbrightPrgrm) May 26, 2016
— Willy Contreras (@Willy08C) May 26, 2016
I summarized the discussion into these points:
Think of another application for your technology that appeals to a wider market with easier accessibility

Startup team is like family. You do not really need a rockstar. Chemistry and good people are what you need. If you have these, you can do everything.

Avoid an excessive use of email in communication between startup team members. Talk in person is always the best.

Fight against your imposter syndrome.

Persistence is always the key.
Best way to get money is to build resources for company by thinking of building products for customers to provide funds

#FulbrightL2M2016

— Khalid Shalan (@K_Shalan) May 26, 2016
Before the lunch break, we had a brief session with Kristen Van Vleck, a staff member from
Institute of International Education (IIE)
. IIE is a non-profit organization who is responsible for organizing and administering the Fulbright scholarship. Ms. Vleck reminded us of our responsibilities and benefits as a Fulbright scholar, our visa status, and the procedures that we have to undertake after finishing our degree in the U.S. She also encouraged us to get involved in alumni networks and participate in volunteering activity to gain more experience related to cultural exchange.
Briefing from an IIE staff
At 1.30 pm, we departed for cultural activities to Carnegie Museum of Art and Natural History. The museum tour was divided into two sessions. The first session was exploring the Museum of Art. In this part of the museum, we saw the art collections from various themes, from a beautiful landscape painting to some elusive structures, whose meaning are very hard to comprehend. The second session was exploring the Museum of Natural History, which offers several exhibitions to visit such as "Dinosaur in Their Time" and "Minerals and Gems."
Museum visits
Inside of Carnegie Museum of Art and Natural History
— Nina Hasenstein (@ninakat121) May 26, 2016
Day 4: Academic Entrepreneurship Overview (Science vs. Business), Ideation and Innovation Projects.
Startup Lifecycle
The morning session was started by hearing a talk from Babs Carryer, Director of Education and Outreach for the University of Pittsburgh's Innovation Institute. She gave a wonderful speech about how to bridge the gap between science and business, such as how to conduct SWOT (strength, weakness, opportunity, threat) analysis, how to analyze the customers, and what they need from us. She explained about startup lifecycle which covers the steps that we undertake to develop and idea into a startup that has financial worth. She said, more startups fail from lack of customers than from a failure of product development. It happens because scientists usually think in a reverse way: develop a solution first, then find a problem that could be solved by the solution.
Problem after solution
There is one funny experiment that we did during her talks. Since the seminar participants consist of STEM students and business/economy students, she asked the STEM people to write what they think about business people, and vice versa. It turns out that actually, both STEM and business people

share

some similar characteristics.
Business people vs Scientist
After the coffee break, we were divided into 10 groups and given a task to build a startup project. So, we have to pretend that we are researchers who want to propose something as a solution to global problems. In my group, we had a fierce discussion to identify what problem we want to address, how we will address it, and who our target customers are. We spen

t

3 hours to generate the idea and made the presentation slides of our project. The presentation went pretty well and I was amazed by the novel ideas presented by all groups, such as converting garbage into energy, turning pineapple leaves into fine clothing material, conducting a self-test to detect Zika virus, and creating and edible plastic bottle to solve sea and land pollution's problem.
Project Ideation and Innovation
132 Foreign Fulbrighters | 6 Alumni | 4 IIE staff representing 64 #countries #FulbrightL2M2016 pic.twitter.com/jRHyoiZ6kx

— Cheryl Nachbauer (@nachbaca) June 23, 2016
I'm so thankful and grateful to get this wonderful opportunity. I learned so much about technology and innovation and got a new insight about science-business combination: "
Research is not an invention. An invention is not a product. A product is not a business
" - Dr. Bud Peterson.
It's an unforgettable experience. I met 131 other Fulbrighters from 64 countries, which is a very valuable networking resources that will benefit my future career.
As a closing remark, I just want to quote a famous saying that we always hear in every Fulbright seminar or conference: "Once a Fulbrighter, always a Fulbrighter."
— Fulbright Programs (@FulbrightPrgrm) May 27, 2016
- Erika -