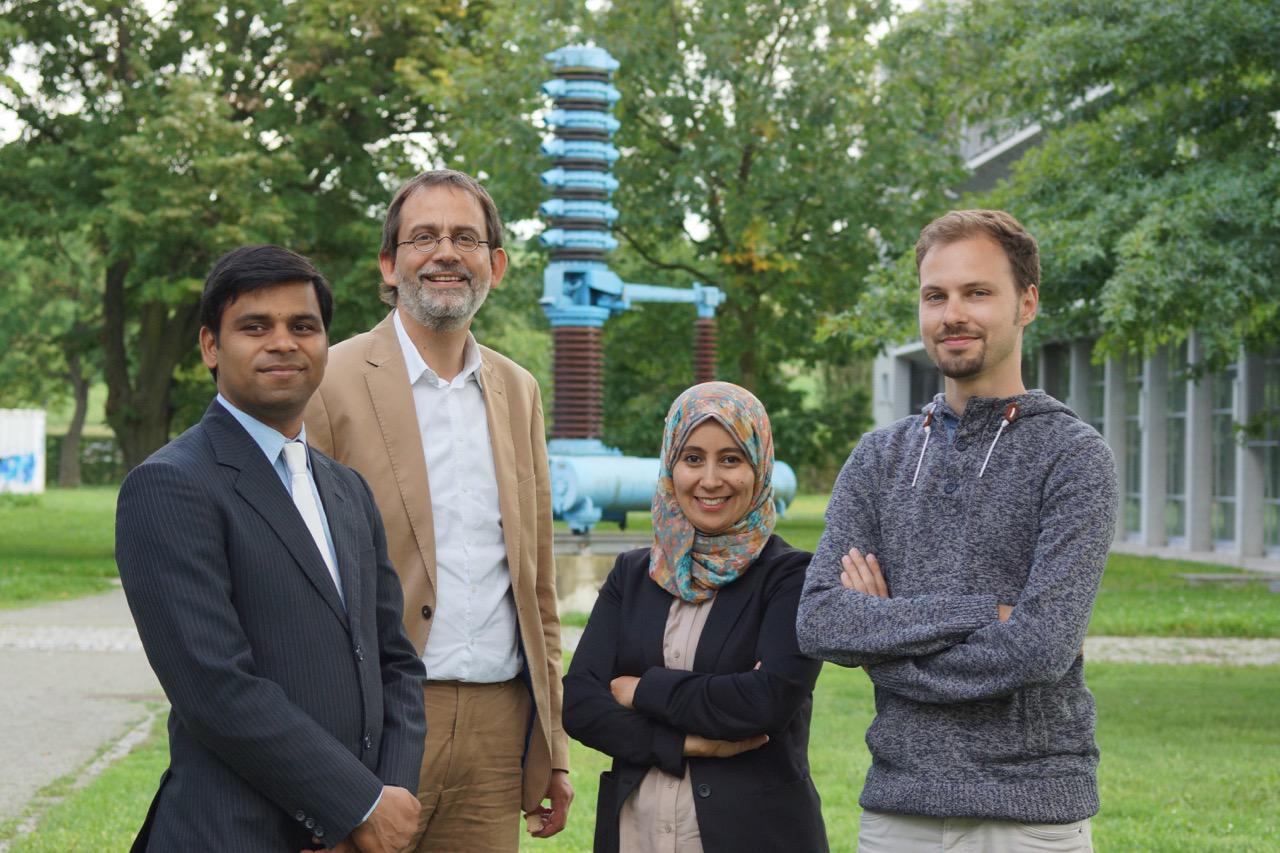 Dr. Herzog
: This large green area on your left is
Sanssouci Park
. It has 11 palaces in it.
Yasmin
: I want to visit this park after we are back from the university, can we?
Dr. Herzog
: We sure can... I think we will be back before sunset.
Yasmin
: I love beautiful things.
Dr. Herzog
: Who doesn't?
Sawood
: [Smiles]
The three souls were heading to the
Hochschule Magdeburg-Stendal University
from Potsdam, Germany in
Dr. Michael Herzog
's car for a
lunch lecture
on the topic of Digital Preservation.
Yasmin
and
Sawood
from the
Web Science and Digita Libraries Research Group
of the
Old Dominion University
, Norfolk, Virginia were invited for the talk by Dr. Herzog at his
SPiRIT Research Group
. The two WSDL members have presented their work at
TPDL 2015 in Poznan, Poland
then on their way back home they ware halted and hosted by Dr. Herzog in Germany for the lunch lecture. You may also enjoy
the TPDL 2015 trip report by Yasmin
.
Passing by beautiful landscapes, crossing bridges and rivers, observing renewable energy sources such as windmills and solar panels, and touching almost 200 km/h speed on the highway we reached to the university in Magdeburg. Due to the vacations there were not many people in the campus, but the canteen was still crowded when we went there for the lunch. Dr. Herzog's student,
Benjamin Hatscher
(who created the poster for the talk) joined us for the lunch. Then we headed to the room that was reserved for the talk and started the session.
Dr. Herzog briefly introduced us, our research group, and our topics for the day to the audience. He also shared his recent memories about the time he spent at ODU and about his interactions with the WSDL members. Then he left the podium for Yasmin.
Yasmin presented her talk on the topic, "
Using Web Archives to Enrich the Live Web Experience Through Storytelling
". She noted that her work is supported in part by
IMLS
. She started her introduction with a set of interesting images. She then illustrated the importance of the time aspect in storytelling and described how storytelling looks like on the Web, and especially on the social media. She discussed the need of selecting a very small, but representative subset from a big pile of resources around certain topic to tell the story. Selecting the small representative subset is challenging, but important task. This gives a brief summary as well as the entry point to deep dive into the story and explore remaining resources. She gave examples of how
Facebook Lookback
compiles a few highlights from hundreds or thousands of someone's sharings and
1 Second Everyday
for storytelling. Then she moved on to the popular social media storytelling service
Storify
and described the issues in it such as flat representation, bookmarking not preservation, and resources going off-topic over time. This lead her to the description of the Web archives, Memento, and Web archiving services (mainly
Archive-It
). Then she described the shortcomings of the Web archiving services when it comes to storytelling and how it can be improved by combining the Web archives and the storytelling services together. After that she concluded her talk by describing her approaches and policies on selecting the representative subset of resources from a collection.
I, Sawood Alam presented my talk on the topic, "
Web Archiving: A Brief Introduction
". I briefly introduced myself with the help of my academic footprint and the lexical signature. The "lexical signature" term led me to touch on
Martin Klein's work
and how I used it to describe a person instead of a document. Then I followed the agenda for the talk and began with the description of the archiving in general, the concept of the Web archiving, and the differences between the two.
— Michael A. Herzog (@maherzog) September 18, 2015
I then briefly talked about the purpose and importance of the Web archiving on institutional and personal scales. Then I described various phases and challenges involved in the Web archiving such as crawling, storage, retrieval, replay, completeness, accuracy, and credibility. This gave me opportunity to reference various WSDL members' research work such as
Justin's Two-Tiered Crawling
and
Scott's Temporal Violations
. Then I talked about existing Web and digital archiving efforts and various tools used by Web archivists in various stages. The list included vastly used tools such as
Heritrix
,
OpenWayback
, and
TimeTravel
as well as various tool developed by WSDL members or other individual developers such as
CarbonDate
,
Warrick
,
Synchronicity
,
WARCreate
,
WAIL
,
Mink
,
MemGator
, and
Browsertrix
. After that I briefly described the Memento protocol and Memento aggregator.
This lead me to my
IIPC funded
research work on
Archive Profiling
. In this section of the talk I described why archive profiling is important, how it can help in Memento query routing, and how does an archive profile look like.
To motivate the audience for research in the Web archiving field I discussed various related areas that have vast research opportunities to explore.
Then I concluded my talk with the introduction of our Web Science and Digital Libraries Research Group. This was the fun part of the talk, full of pictures illustrating lifestyle and work environment at our lab. I illustrated how we use tables in our lab for fun traditions such as bringing lots of food after a successful defense or spreading assignment submissions on the Ping Pong table for parallel evaluation. I illustrated our effective use of the white boards from "about:blank" state to the highly busy and annotated state and the reserved space for the "PhD Crush" that keeps track of the progress of each WSDL member in a visual and fun way. I couldn't resist to show our
Origami
skills on the scale of covering an entire cubicle and every single item in it individually.
— Michael A. Herzog (@maherzog) September 18, 2015
After a brief QA session, Dr. Herzog formally concluded the event.
— SPiRIT (@spirit_group) September 18, 2015
From there we all were free to explore the beauty of the places around and we did to the extent possible. We toured around the historical places of the Magdeburg city such as the
Gothic architecture
masterpiece,
Magdeburg Cathedral
and on our way back to the Potsdam we saw the newly built largest canal under-bridge,
Magdeburg Water Bridge
.
By the time we reached to Postdam the sun was already set, but we still managed to see a couple of the palaces in the Sanssouci Park and they were looking beautiful in that light condition. We even managed to take a few pictures in that low light.
Dr. Herzog invited us for dinner at his place and we had no reason or intention to say no. He was the head chef in his kitchen and prepared for us a delicious rice recipe and white asparagus (which was a new vegetable for me). Since I like cooking, I decided to join him in his kitchen and he gladly welcomed me. I did not have any plans in advance, but after a brief look inside his fridge I decided to prepare
egg hearts
and salad. During and after the dinner Dr. Herzog described and showed pictures of many historical places in Potsdam and made us excited to visit them the next day.
The next morning we had to head back to Berlin, but we sneaked a couple of hours in the morning to see the beauty of the Sanssouci Park and the Sanssouci Palace in the bright sunlight. A long series of stairs from the front entrance of the palace leading to the water fountain with stepped walls on both the sides covered with grapes vines were mesmerizing.
Dr. Herzog dropped us to the train station (or Bahnhof in German) from where we took train for Berlin. We got almost a day to explore Berlin and we did it the extent possible. It is an amazing city, full of historical masterpieces and the state of the art architecture. At one point, we got stuck in a public demonstration and couldn't use any transport due to the road jam, although, we had no idea what was that demonstration for.
Later in the evening Dr Herzog came to Berlin to pick his wife up from the
Komische Oper Berlin
where she was performing an Opera and we got a chance to look inside this beautiful place. This way we got a few more hours to have a guided tour of Berlin and had dinner in an Italian restaurant.
It was a fun trip to explore three beautiful cities of Germany immediately after
exploring yet another beautiful and colorful city of Poznan, Poland
. We couldn't have imagined anything better than this. I published seven
photo spheres
of various churches and palaces on
Google Maps
during this trip and got an album full of pictures.
On behalf of my university, department, research group, and myself I would like to extend my sincere thanks and regards to Dr. Herzog for his invitation, warm welcome, hosting, and spending time while showing us the best of Magdeburg, Potsdam, and Berlin during our stay in Germany. He is a fantastic host and tour guide. Now tuning back to the see off conversation among the three.
Sawood
: Yasmin, now you know why Dr. Herzog said, "who doesn't" when you said, "I love beautiful things".
Yasmin
: [Smiles]
Dr. Herzog
: [Smiles]
--
Sawood Alam